FortisAlberta acknowledges the importance of building and nurturing authentic relationships within the communities we serve, which includes the 20 First Nations and 2 Métis Settlement lands and traditional territories on which we operate. We are respectful of the First Nation, Métis and Inuit people, their land and their culture, and we recognize them as the traditional stewards of the land.
Our journey is ongoing and we will keep striving to advance the process of reconciliation and the many forms it can take. At FortisAlberta our participation in the Truth and Reconciliation Commission of Canada's Calls to Action and through the National Principles for Engagement of Indigenous Peoples shared by Electricity Canada (formerly the Canadian Electricity Association) and adopted by FortisAlberta continue to demonstrate our commitment.
As inclusive Canadians, we must ask ourselves how can we support the Truth and Reconciliation Commission of Canada's 94 Calls to Action. You can read the full report here. All FortisAlberta employees are encouraged to find ways to fulfill roles in reconciliation, in the context of Indigenous and non-Indigenous relationships and further the journey of the National Centre for Truth and Reconciliation.
In 2021 FortisAlberta recommitted our Indigenous Engagement Principles, and while the principles were first formalized in 2016 we have always been committed to respecting the communities we work with. The FortisAlberta Executive team has – on behalf of all FortisAlberta employees – committed to these Principles. View our Indigenous Commitment Statement here.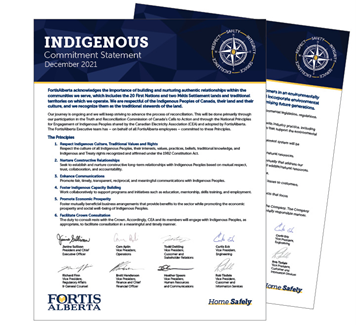 We believe the path forward will advance when companies join with community and Indigenous neighbours to honour a sincere commitment to walk in right relations with First Nation, Métis and Inuit Peoples, and with all nations.
To create public and tangible accountability to this commitment, FortisAlberta has commissioned benches to be donated to spaces that foster coming together and reflecting upon the truth and impacts of the residential school system and respecting the intergenerational trauma and effects of colonization that still influence relationships today and will for many years to come.
Additionally, FortisAlberta land acknowledgment plaques have been created for each of our offices throughout the province. These plaques will be a continual reminder of our commitment to treating the land, and each other, with respect and honor now and into the future.