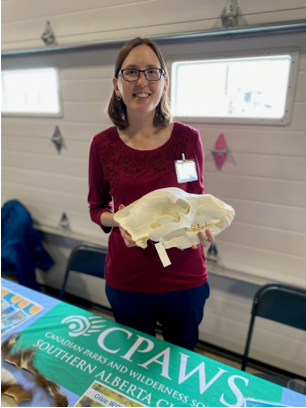 FortisAlberta helps bring wildlife education to classrooms
Sep 20, 2023, 21:36 PM
Since 2015, FortisAlberta has supported the Canadian Parks and Wilderness Society (CPAWS) education programs. From grasslands to grizzly bears, these classroom visits teach students about important parts of Alberta's natural environment. Offering hands-on learning with games, guided hikes and community walks, the multi-visit model includes two one-hour visits designed to connect conversation with curriculum.
"We ground our programs within the local context of each community," says Jaclyn Angotti, Education Director at CPAWS. "Our lessons are science-based and bias-balanced."
With the support of FortisAlberta, CPAWS visited 20 classes in 2022. Students in Coaldale, Kainai First Nation, Taber, Picture Butte and Nobleford participated in outdoor lessons accompanied by classroom sessions. In 2023, CPAWS will visit more classrooms with the support of FortisAlberta, focusing their education experiences on students in central Alberta.
Here are just some of the sessions offered by CPAWs:
Animal Detectives – Bring the experiences of Alberta's species at risk to life (Kindergarten to grade 3)
Why Grasslands? – Help discover and meet your prairie home again (grades 4 to 9)
Water Rangers – Empowering students to take the health of our water into their hands (grades 4 to 5)
Grizzly Bears Forever – Explore the biology of Alberta's grizzly bears and their habitat (grades 7 to 12)
To learn more about CPAWS work, visit their website here.