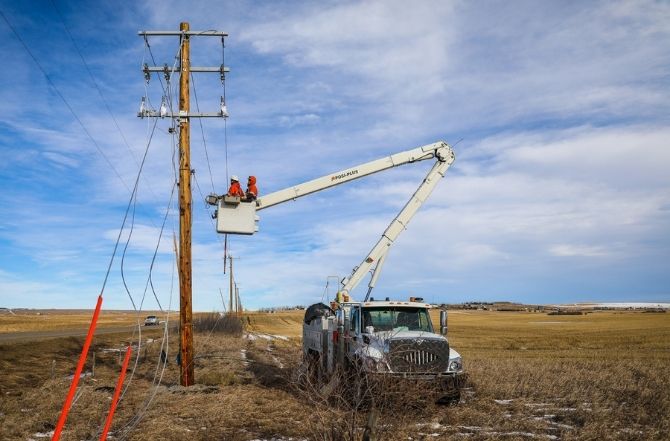 Wildfire mitigation, prevention and our dedication to safety
May 3, 2022, 19:57 PM
No matter where you reside in Alberta, at some point over the past few summers it is likely that smoke from wildfires burning in nearby provinces and states was a noticeable part of your day.
Whether it was brown hazy skies, or in extreme cases, the need to seal your windows to prevent smoke that travelled 300 kilometres ending its journey in your living room, the summer of 2021 may in part be remembered in Alberta for its air quality advisories and in those jurisdictions where the fires actually burned, for much worse than that – in some cases with devastating outcomes.
At FortisAlberta, wildfire mitigation, the safety of Albertans and the protection of the environment is top of mind as we work in grassy or wooded areas, Provincial and National Parks and anywhere else a fire could take hold and spread in the blink of an eye. Each year, field employees patrol the areas we serve to identify potential fire risks and compile a comprehensive list of any repairs that can lower the chance of a fire or electrical incident.
In 2021, FortisAlberta replaced 3,381 switches in High Risk Fire Areas (HRFA) and 9,378 switches in total throughout the year. We also patrolled and inspected more that 20,000 assets (poles, lines and other equipment) in HRFAs. In 2022 FortisAlberta has expanded its High Risk Fire Area Patrol to over 40,000 assets and has identified 3,000 repairs that are currently underway.
Automation of our Protection equipment in HRFAs will also allow us to more quickly operate the system in response to wildfires (or risk of wildfires). This means that hands-on repairs can sometimes be avoided in favour of system monitoring and reparation through our FortisAlberta Control Centre.

FortisAlberta also undertakes other wildfire mitigation activities, such as vegetation management and employee training. For more on FortisAlberta's wildfire mitigation practices, including information on how we can all support wildfire prevention, visit our Wildfire Mitigation page.