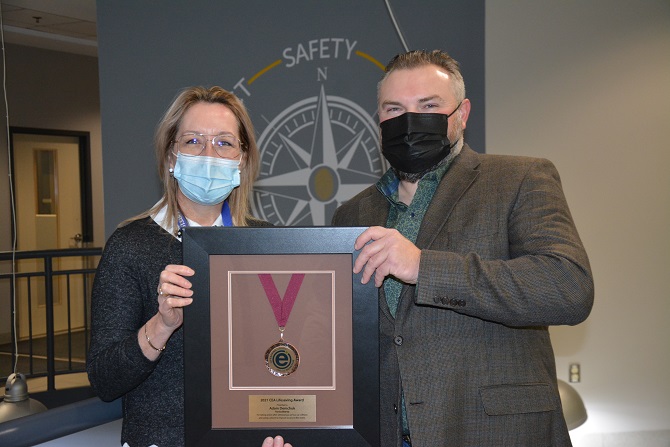 Adam Demchuk receives CEA Lifesaving award
Jan 5, 2022, 17:31 PM
On Dec. 6, 2021, FortisAlberta hosted an intimate event at its Calgary head office to recognize Adam Demchuk, Field Metering and Equipment Technologist as a recipient of a 2021 Lifesaving Award from the Canadian Electrical Association (CEA).
Introduced in 1922, these awards are granted annually to any employee of a CEA member utility who was involved in a lifesaving attempt or acted to prevent further harm to someone who needed immediate help.
In April, Adam took swift action after witnessing a serious car collision on his way home from work, where the vehicle in front of him hit a guard rail, flew into the air, plunged into a ditch, rolled over, and stopped on its roof. Adam performed a situation assessment, improved access to the victim for paramedics, and retrieved equipment needed (water pack, fire extinguisher) to protect against the possibility of a fire hazard.

Surrounded by family and a few co-workers, Adam humbly accepted the award from Janine Sullivan, President and CEO.
"When we say safety is our north star, we can only hope that someone represents it like that," says Janine. "Adam really went above and beyond, and as a company we couldn't be more proud. I'm sure that the individual that he helped that day was very thankful, but we are equally, if not more, thankful for Adam being such a great representative of our company."
"It's not just this one event," adds Ian Anderson, Manager, Field Technical Services. "Adam defines our core values of Safety, Integrity, Service, Excellence and Respect in everything he does and it's not at all surprising to see him receive this award."
Congratulations to Adam on this outstanding recognition!