Landscaping Safety – Part 1: Primping your property without blocking the box
Mar 31, 2021, 14:49 PM
If your landscaping plans include concealing electrical equipment such as utility boxes, meters, power poles or even power lines, FortisAlberta wants to ensure you do so safely.
In part 1 of our Landscaping Safety series, we provide a few guidelines to follow when landscaping around utility boxes to avoid creating an electrical hazard and to ensure our workers have unobstructed access during power outages, maintenance or other required service.

Padmounted Transformers



Padmounted transformers change high-voltage electricity to lower voltages that are used by appliances and lighting in your household. Some contain high-voltage electrical equipment and have buried circuits and wires in the immediate area.
Like any other piece of important utility equipment, they are locked and should be left alone – don't let children play on or around them. If you see our equipment that is unlocked or has its doors open, note the identification number, if visible, and call us at 310-WIRE (9473). Keep everyone a safe distance away, at least 10 metres (33 feet, about the length of a school bus).
Landscaping around Padmounted Transformers
If you have a padmounted transformer and underground electricity cables and wires on your property, you need to plan how to landscape and dig safely around this equipment. The following guidelines will help you create a garden that is esthetically pleasing without jeopardizing safe access to the transformer.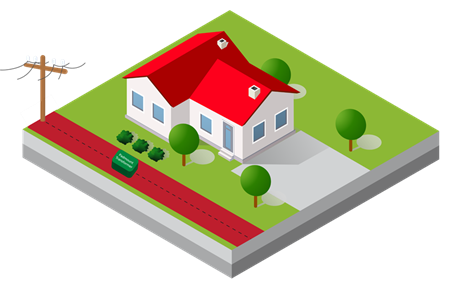 Where there is a padmounted transformer and/or secondary pedestal, there are likely underground wires that span the width of your yard. Planting in this area is both an electrocution hazard and outage risk.
Dig safely around padmounted transformers. Before digging, always click or call to find out the locations of buried utilities such as electricity cables. Check to see if there are existing easements, or Utility Right of Ways, on your property for the electrical equipment. You should not be planting any trees or bushes within the easement or Utility Right of Way. In the absence of an easement or Utility Right of Way, always click or call, as buried electrical facilities may still be present, and appropriate planning should be considered. This rationale should be applied to all electrical equipment and facilities.
Padmounted transformers may have underground cables that extend all the way down the easement or right of way in both directions. Like all power lines, the underground wire should not be moved or damaged. Digging around a padmount transformer carelessly could cause not only service interruptions in your home or community but also severe or even fatal electric shock. Any digging around an underground power line or working near an overhead power line requires an on-site orientation, which is obtained by calling 310-WIRE.
Plan how to "transform" your garden
Choosing plants carefully and planning where to plant them will help ensure their roots don't become entangled with the underground wires and that our Power Line Technicians can always access the transformer.
When planning your garden, ensure that at least four metres of area in front of the equipment doors are clear so that our Power Line Technicians can safely complete their work, whether it's routine maintenance or responding to a power outage or emergency.
Plants, large rocks and other ornamental objects must be at least 1.5 metres away from both sides and the back of the transformer.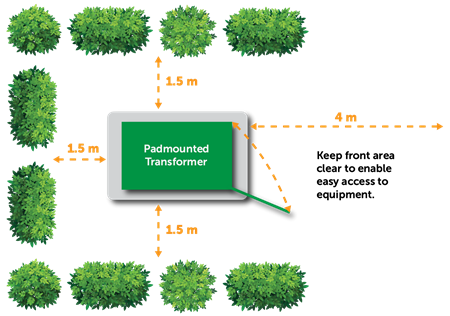 Tips for choosing plants around the transformer
Draw a plan marking the location of plants, like the one pictured above. No plants, shrubs or trees should be in the area in front of the doors.
Note the height of the equipment so you can choose the right-sized plants.
Get advice from a nursery or garden specialist on the height, spread and root characteristics of the plants and how to plant them.

Trees can especially pose an issue as the roots may obstruct our underground conductors and our equipment, making for unsafe conditions for routine maintenance and repairs. Tree limbs also cause issues as the tree matures and restricts access to our equipment.

There may be ground wire buried approximately 0.3 metres (one foot) deep, and you don't want roots that will become tangled with or obstruct this wire.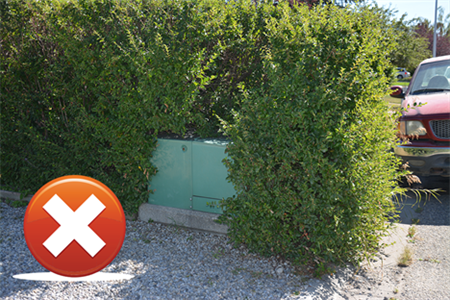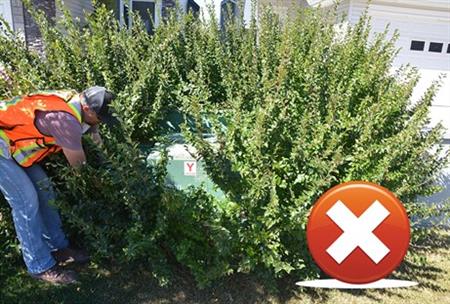 The above padmounted transformers have doors that open towards the street. In the event of an outage or maintenance, our Power Line Technicians would have to cut down the hedge to ensure safe access.
Removing obstructions to our electrical equipment adds unnecessary time and cost when performing maintenance or restoring power during an outage. It is therefore the customer's responsibility to take care of any clean up. However, by planning your landscaping with safety and access in mind, it makes everyone's lives easier and all the more beautiful.


Landscaping Safety – Part 2: Rocks around the box

Landscaping Safety – Part 3: Trees that Please without Shocking Unease