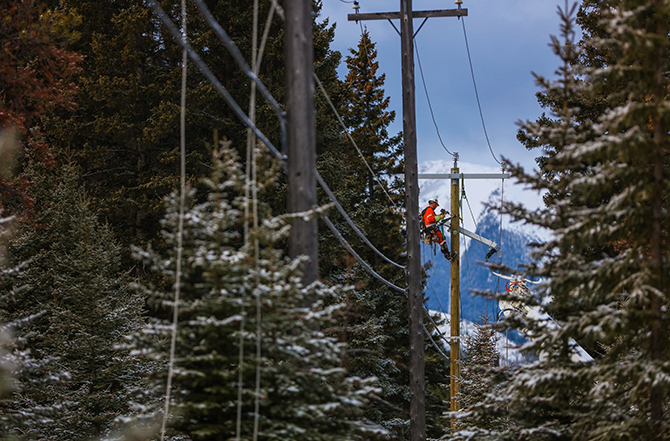 Latest COVID-19 update
Aug 20, 2020, 15:46 PM
FortisAlberta remains committed and proud to support our communities and power the homes, farms and business we serve. As the Government of Alberta has introduced a staged Economic Relaunch, we recognize COVID-19 has undoubtedly brought its challenges to all Albertans. We have been navigating through these uncertain times with you and we are determined to continue delivering the reliable electricity customers need while protecting the health and well-being of our communities.
As we start to see more restrictions being lifted in our province, we have remained fully accessible and will continue to maintain operations. This means completing essential services as scheduled using our own construction crews and contractors. You may see us out in your community, but rest assured we are taking the necessary actions and precautions to protect the health of our employees and customers to ensure our ability to continue to provide safe and reliable service. Our approach is proactive to reducing exposure and helping protect the health and safety of all employees and our customers during this time.
We have developed safety protocols for cleaning and keeping the recommended physical distancing. The following protocols are in place and will be maintained:
All employees have been following protocols specific to sanitizing vehicles, tools, workstations and "frequently touched" equipment and facilities, face coverings and physical distancing

Our field employees are wearing Personal Protective Equipment (PPE), such as face coverings when interacting with customers, and electrical PPE, which includes gloves, when entering any facilities and touching equipment
All work includes a two-metre distancing policy between employees and our customers

Since March, 85 per cent of FortisAlberta's 1,100 employees have been working remotely. As the province continues down its path of phased re-opening, the company will bring employees back into the workplace gradually and safely by following all applicable protocols provided by the Alberta Government and Alberta Health Services. Work-related international and domestic travel has and will continue to bebe restricted

Our facilities have been closed to outside visitors, guests, and vendors

Face to face meetings of more than five people have been suspended and for those that take place, physical distancing and face covering protocols are followed

Internal and external training at our Employee Development Centre has been postponed
Events, gatherings and community event participation have been postponed
Expriencing an outage? Stay informed.
Please download our mobile app in the case of a power outage. Our app gives you access to electricity outage information in our service territory. It also provides you with the ability to report an outage and receive relevant data such as estimated restoration times, cause and the number of affected customers in real-time. In addition to our mobile app, you can sign up for outage alerts specific to your site(s) by creating an Account.
By creating an account, you will also have access to the following:
View your site information

View and report power outages

Review your electricity consumption
Earlier this year, FortisAlberta announced a $100,000 donation to organizations throughout our service territory that best serve the most vulnerable during this time. The donation is supporting local food banks, women's shelters, Indigenous communities and other local organizations that offer help where there is the greatest need.