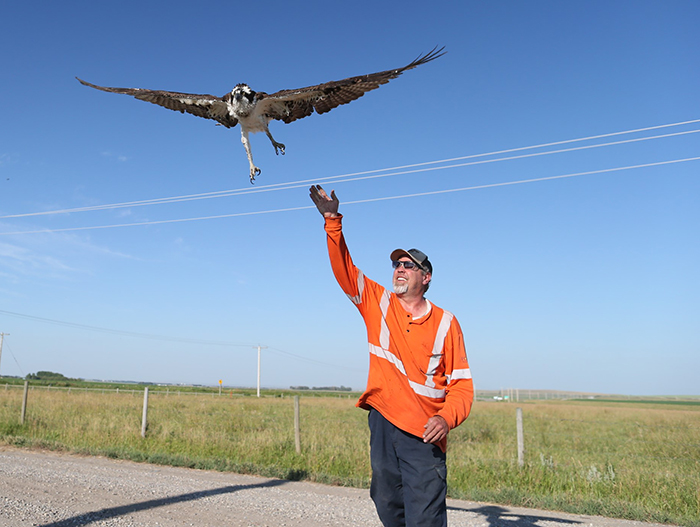 Another osprey saved by FortisAlberta PLT
Aug 20, 2020, 15:21 PM
The life of another osprey was saved, thanks to the tireless efforts by one of FortisAlberta's Power Line Technicians who responded to a call for assistance from the Alberta Birds of Prey Centre and a caring sharp-eyed motorist.
Over the August long weekend, Torri was driving along a highway near Waterton Lakes when a large mass hanging from an osprey nesting pole caught her attention. She was shocked to see what appeared to be the lifeless body of an osprey hanging there, entangled in a large ball of bailing twine. In the extreme summer heat, Torri looked closer and saw the osprey move its head. She reached out to Colin Weir, Executive Director at the Alberta Birds of Prey Centre in Coaldale, who in turn knew to call us.
Our PLT Ken quickly made his way to the nest and immediately lowered the exhausted osprey to the ground. Colin soon discovered the bird was still was not out of trouble, its legs were badly entangled in the massive ball of bailing twine that was likely used by the parents for nesting material.
After Colin picked up the bird, Ken patiently cradled it in his arms and they worked together for about 20 minutes to meticulously cut through the large mass of entangled twine. After giving the osprey a quick examination and massaging its legs and feet to restore circulation, Colin determined the best course of action was to get the bird back with its parents who were circling and calling overhead. A few minutes later Ken sent the bird soaring skyward. First it landed on a nearby power pole, and a short time later returned to the nest, reunited with a sibling and parents.
"I am fortunate to work with FortisAlberta PLTs every summer on a number of rescue calls across the southern region. The PLTs are always a pleasure to work with and are only too pleased to lend a helping hand, both with their expertise and equipment. For us, they help make the impossible happen. In addition to keeping the power on often during extreme weather events, FortisAlberta employees have always exemplified what it is to be a superb corporate community partner and steward of the environment," says Colin.

FortisAlberta has been a sponsor of the Alberta Birds of Prey Centre for over 10 years. The Centre has made many significant site improvements and seen its visitation rise to as high as 20,000 people annually, including many school children. This support has translated into increasing and enhanced contributions to wildlife conservation across Alberta.