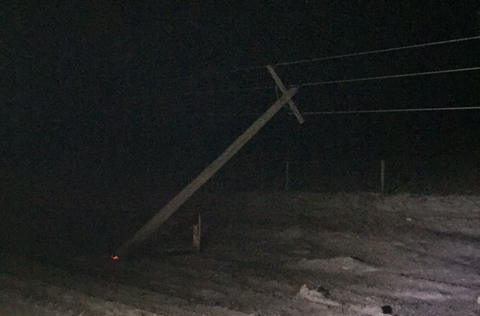 High winds and wildfires cause widespread outages in Alberta
Oct 18, 2017, 16:30 PM
Yesterday, windstorms and multiple wildfires caused widespread outages in southern Alberta and pockets of outages throughout the province.

At the peak of the outages yesterday, more than 11,000 customers were without power. FortisAlberta crews worked late last night and continue to safely restore power to customers this morning.

The magnitude and frequency of the storms we've battled this year is unprecedented. We recognize that some of our customers have been impacted more than once by Mother Nature over the past short while. Rest assured, however, that we have more than 300 resources and equipment on hand to triage and complete restoration as safely and quickly as possible.

FOR YOUR SAFETY
Alberta may receive winds up to 110 km this afternoon and overnight in the areas south of High River, Magrath and Crowsnest Pass.
Do not approach downed power lines or burning equipment. Please call us at 310-WIRE and stay at least 10 metres away.
There continues to be evacuation orders in place for Coleman and Moon River (South of Monarch).
Learn how to be prepared for an outage with our tips, and know what to do during a power outage.
OUTAGE UPDATE
Currently, we have approximately 3,700 customers without power in pockets both north and south throughout our service area. We have mobilized 300 employees to work on restoration. Restoration times vary,
please check our outage map for updates
.
To view updates on the outages, view our outage map at
http://service.fortisalberta.com
or on the "FortisAlberta" mobile app.
Thank you for your patience as we work to safely restore power to your area.