To our valued Big Springs customers,
We recently communicated additional details about our underground electrical cable replacement project scheduled to begin this week. Upon further evaluation of potential impact to your property and discussions with the City of Airdrie, FortisAlberta has temporarily put this project on hold.
FortisAlberta and the City of Airdrie will take time to review alternative solutions to minimize impact to landscape changes and tree removals within the Utility Right of Way currently required to successfully complete the upgrade.
The replacement of underground cable is still necessary to ensure we are providing you with safe and reliable electricity distribution service. While we review proposed solutions with the City of Airdrie and our FortisAlberta project team, we commit to communicating an update as soon as possible.
We have appreciated your patience and understanding as we continue to work through this process. If you have any questions or concerns, please contact our Customer Care Centre at 310-WIRE (9473).
Project Details
This project will involve FortisAlberta contractors accessing and replacing below ground primary, secondary, neutral and streetlight cables. Work will take place on weekdays only. Community members who may experience a power disruption will be notified by FortisAlberta 72 hours in advance.
Action and Benefits to you
A key element of this project involves increasing all secondary cables that run under the public area to the edge of each property from 100A to 200A, allowing the lines to handle a higher electrical load. This will improve reliability, as well as introduce a key element of in-home electric vehicle (EV) charging infrastructure, should property owners wish to explore EV options in the future.
This replacement provides opportunity to upgrade secondary lines located under your property that connect to your meter. The cost of this service will fall to each respective homeowner and we will work with an electrician of your choosing during installation. This replacement is optional, though encouraged, as these lines are also aging. Replacement in the summer can mitigate risk of failure in colder months when energy usage increases and may take longer to restore in freezing conditions. To replace this line, call FortisAlberta at 310-WIRE (9473) with the contact information for your chosen electrician.
Potential Impact to your Property
Contractors will work to minimize property impact, though unfortunately, the cable replacement may result in the removal or relocation of trees or the disruption of gardens and landscaping within the Utility Right of Way (URW)* on customer property.
City of Airdrie bylaws state that it is the responsibility of the landowner to remove obstructions along a URW. We understand the inconvenience and are taking this responsibility away from our customers. FortisAlberta will be working with City of Airdrie approved landscaping contractors who will be on-site throughout construction to ensure greenery that can be replaced or relocated is done so quickly and efficiently. All sod removed for the purpose of cable installation will be reclaimed/replaced, with the area looking the same, or as close as possible to its appearance before cables are replaced. If your property will be impacted, you will be notified in advance by FortisAlberta.
We apologize for the inconvenience and will work to limit disruption to property wherever possible.
Frequently Asked Questions
What do we, Big Springs residents, have to do?

Not a thing. Our team will be working diligently to ensure that there is as little disruption to your way of life as possible. If you have a specific concern about an item or landscaping project on your property, feel free to speak with the on-site landscapers on how to best limit impact to the area. FortisAlberta, our contractors, and landscapers, are committed to taking excellent care of your property.
We will work to ensure that you have access to your driveway each night. The trench we are working in will be closed as work concludes each day, either by crushed rock, or a steel plate. Typical hours of construction will be 7 a.m. - 5:30 p.m., though may go until 7 p.m. if required.
The electrical contractor will start their work on approximately August 8, with an anticipated completion date of September 30.
The construction will take place in five stages which will last approximately two weeks for section. You will be given two weeks notice before construction impacts your property.
How will my garbage get collected?

FortisAlberta is working closely with the City of Airdrie to ensure that there is no disruption to garbage, organic or recycling bin services. Bins will be picked up on their regular collection day by 7 a.m. FortisAlberta crews will then move bins to a collection point outside of the work zone. If you have not already done so, please ensure your address is written in the white address box on your bins. Bins without addresses will be labelled prior to their first scheduled pickup to ensure they are returned to the correct property.

Can I cut my grass while these flags are in my lawn?

Yes, you can cut your grass. Flags can be temporarily removed for the purpose of maintaining property, though the paint sprayed around them should remain. Once you've finished cutting your grass, we ask that flags be put back to their original location.

What are you doing with trees that are being cut down?

Trees being removed will have branches removed and mulched. Trunks will be taken back to the landscapers yard, though we welcome firewood requests should you wish to keep some wood on your property. If you would like wood left at your residence, please call 310-WIRE (9473). We will work with you to coordinate an area to stack 18" logs.
A Look at the Work: In Progress and After Completion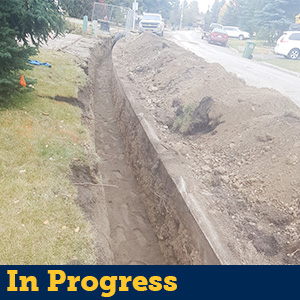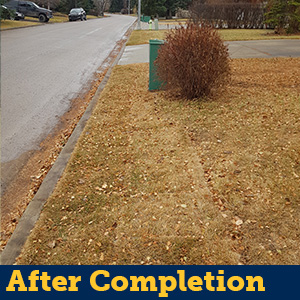 *Utility Right of Way Explained
The URW is the area within, on, over and under a portion of land for the erection, installation, construction, operation, maintenance, inspection, testing, alteration, reconstruction, repair, removal, replacement and relocation of electric power line, telephone and telecommunications lines and gas line and all related equipment, apparatus, and accessories. The URW boundary covered under each respective property's Right of Way Plan is registered with Alberta's Land Titles Office.
Under the agreement, utility providers are entitled to perform work as deemed necessary for the purpose of maintaining, repairing, or upgrading their system (in this case, the underground cables in need of replacement in your community).
The agreement states that utilities restore all parts of the URW affected by construction to the same condition it was prior to construction or area disruption. To learn more about Alberta's Utility Right of Way policy, visit servicealberta.ca.