In early 2022, FortisAlberta conducted testing of the underground power cable system throughout Langdon. This included the testing of distribution lines that deliver electricity to your property.
Findings indicate that, due to local soil conditions, which include sulfate reducing bacteria which can cause the premature degeneration of underground cables, cables that run below your property to deliver electricity to your home are in need of replacement.
FortisAlberta has procured new cable, specific for the soil conditions present in Langdon, which is capable of withstanding corrosion-causing conditions and which will mitigate future disruptions and improve reliability within the community.
In collaboration with Rocky View County, we are in the initial stages of this project and would like to provide some information on the work ahead, including how your property may be impacted. As a customer, you will benefit from this project as this cable replacement comes at no additional cost to you and will provide you the peace of mind of knowing that the distribution system delivering your power is as safe and reliable as possible.

Project details
Preliminary Survey and information gathering for design is scheduled to start Spring 2023 in the following locations:
*Please note that not all properties in the areas listed above will be affected
Construction work is scheduled to continue Spring 2023. Crews will complete work on Railway / Douglas Ave, and then move on to one of the following locations:
| | |
| --- | --- |
| | |
| | |
| McDougall Place / McDougall Street | Besse Avenue / Thomas Street |
Construction will involve drilling and excavation to access the underground cables from the utility box situated along the Utility Right of Way (URW)*. This will also involve FortisAlberta approved contractors trenching and/or drilling from URW along your property to where the meter connects at the side of your house. Work will take place on weekdays only.
Regarding construction timelines: Residents should anticipate a construction period lasting approximately two weeks and allow for an additional two-week period of remediation after construction has finished.
When the new cable is in place, a planned power outage will be scheduled to transition from the old cable to the new the new cable. FortisAlberta will provide residents with a notice of the outage by phone at least 48 hours in advance. Please ensure your retail service provider (the company that provides your monthly utility bill) has your updated phone contact information to receive this notification.
While this work is necessary to ensure service reliability, customers who do not want cables under their property replaced (outside of the URD) are able to opt out. These customers do so with the understanding that they will be continuing to power their property through the use of aging cables with an increased risk of failure. Future repair and excavation cost required as a result of opting out of this cable replacement will be at the home owner's expense.
Homeowner signoff will be collected to indicate acceptance, or to decline the scheduled work.
Impact to your property
Should you agree to allow FortisAlberta to replace that portion of underground electrical cable situated at your property, that scope of work will involve FortisAlberta's subcontractor trenching and/or drilling from the URW, across your property, to the location of your meter (where your meter connects to the outside of your house).
FortisAlberta's subcontractor will endeavour to minimize property impact, however, you must understand that any cable replacement operation may result in the removal and/or relocation of sod, trees or the disruption of gardens and/or other landscaping, including concrete and/or pavement situated at the property, in the area of work. It being further understood and agreed that any and all sod removed during FortisAlberta's operations at your property shall be reclaimed using grass seed only, and that the homeowner shall thereafter be responsible for all care and maintenance of such grass seed.
When your property is scheduled to be impacted, you will be notified in advance by FortisAlberta. We apologize for the inconvenience and will work to limit disruption wherever possible.
FortisAlberta is working closely with Rocky View County to ensure that there is no disruption to garbage, organic or recycling bin services. Bins will be picked up on their regular collection day and can be left near their regular pickup location. FortisAlberta crews will then move bins to a collection point outside of the work zone. Please ensure your address is written in the white address box on your bins.
Regarding parking, FortisAlberta and our contractors will work to minimize parking disruptions. When parking will be impacted, temporary parking will be made available. Customers will be notified in advance should their spaces be impacted.
Action and Optional Upgrades
This work provides area residents with the opportunity to upgrade the load-handling capability of the underground cables delivering electricity to their home.
With the understanding that the difference in cost between the initial replacement cables and the upgraded cables being the responsibility of homeowner, FortisAlberta contractors will upgrade the cable running from the edge of your property connecting to your meter. As the route to these lines will be exposed as part of the overarching project, property owners who pursue this optional upgrade would be saving themselves future excavation costs should they wish to replace the line in the future.
Should you decided to upgrade these cables, you will be responsible hiring an electrician to replace your meter box with a meter capable of handling a higher electricity load. This cable upgrade and meter replacement is in no way mandatory, however, it will increase your service capacity should you require more power in the future.

For additional information on the process of upgrading during cable replacement, call FortisAlberta at 310-WIRE (9473). If you've decided to go this route, please call us with the contact information for your chosen electrician.

What to expect in your community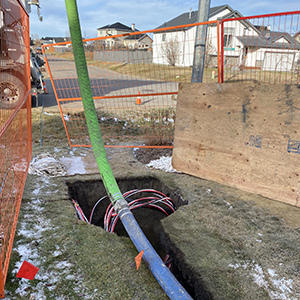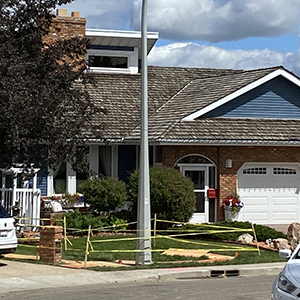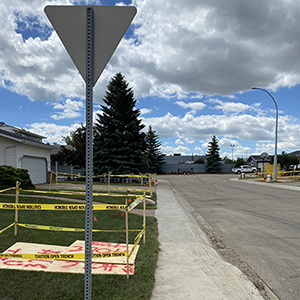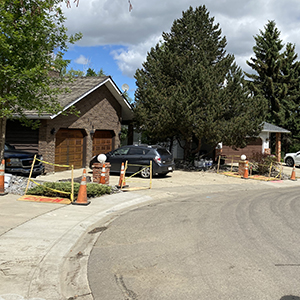 *Utility Right of Way Explained
The URW is the area within, on, over and under a portion of land for the erection, installation, construction, operation, maintenance, inspection, testing, alteration, reconstruction, repair, removal, replacement and relocation of electric power line, telephone and telecommunications lines and gas line and all related equipment, apparatus, and accessories. The URW boundary covered under each respective property's Right of Way Plan is registered with Alberta's Land Titles Office.
Under the agreement, utility providers are entitled to perform work as deemed necessary for the purpose of maintaining, repairing, or upgrading their system (in this case, the underground cables in need of replacement in your community).
The agreement states that utilities restore all parts of the URW affected by construction to the same condition it was prior to construction or area disruption. To learn more about Alberta's Utility Right of Way policy, visit servicealberta.ca.