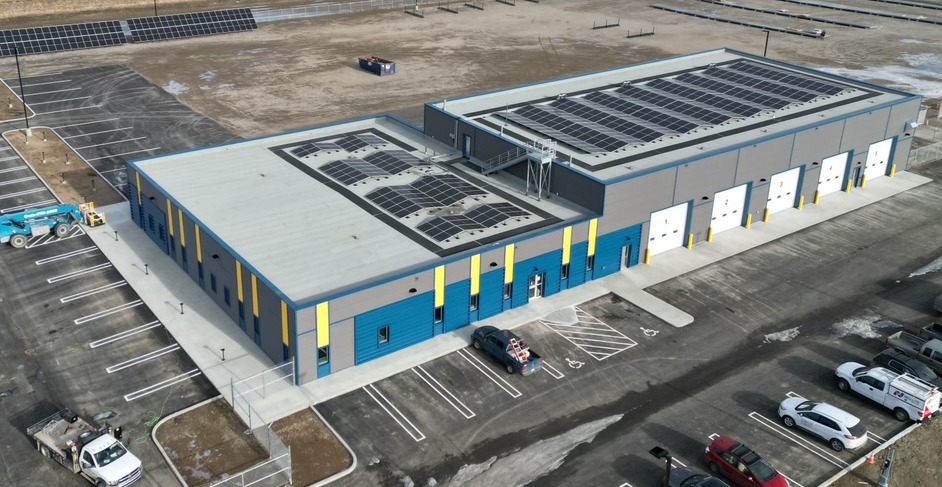 FortisAlberta receives Electricity Canada recognition for our Coaldale net zero building
Jun 26, 2023, 20:40 PM
At FortisAlberta, championing a sustainable energy future involves demonstrating net zero action today. In the town of Coaldale, AB, we achieved a net zero milestone with the opening of our first facility designed and built to meet the Canada Green Building Council zero carbon building standard.
This milestone was well-received within the industry and earned us an Electricity Canada 2023 Centre of Excellence award. The Centre of Excellence awards, which showcase the best of Canadian electricity ingenuity, inspiration and aspiration, were announced on May 31, 2023. The award celebrates transformational innovations in how electricity is produced, delivered, and consumed, and highlights transformational progress in how electricity yields economic, social, and environmental benefits for society.
"We approached the design and build of our newest and most environmentally advanced facility as a learning opportunity," says Janine Sullivan, FortisAlberta CEO. "Our Coaldale office provided us with a way to test net zero building practices in a real-world project and its ongoing operation will continue to provide valuable insight."
The building, which is situated on 6.7 acres of land with 11,000 sq ft of shop space and 8,500 sq ft of office space, is fully electric with no natural gas services. Its design focused on reducing energy consumption while using an onsite solar array to meet its electricity needs. It is unique as it produces the same amount of energy (or more) than it will consume in a year.
The Coaldale building incorporates a solar array on the roof and in a corner of the site. In addition to the solar array, the net zero design maximizes energy efficiencies and lowers resource usage. Its walls and roof were designed to be more eco-friendly than typical building envelopes. LED lighting and efficient mechanical systems were also utilized.
This net zero building was an important pilot and the learnings from it will inform future building standards for our facilities.
We are honoured for the showcase of our new building and proud to be part of the Coaldale community.