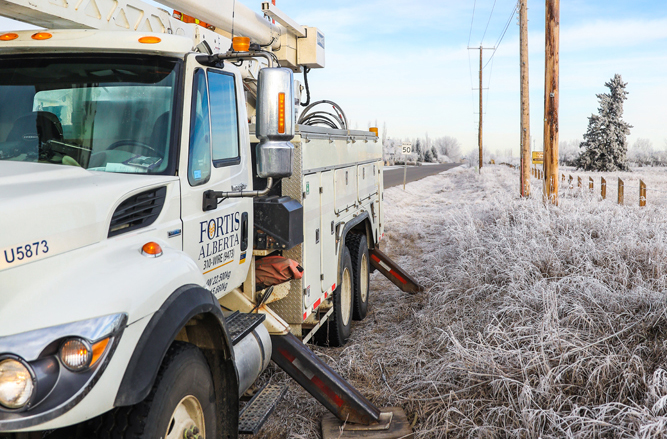 Working in Area Advisory
Feb 11, 2021, 20:09 PM
We are currently doing underground and overhead maintenance in the following areas: Sylvan Lake, Sherwood Park Antler Lake, Sherwood Park Village on the Lake, Whitecourt, Pigeon Lake and Bigstone/Millett.

FortisAlberta customers want reliable electricity service. Part of this is building and maintaining our distribution system such that our facilities are easy to access and have integrity. As part of our regular maintenance program, it has been determined that certain portions of the underground and overhead line throughout our operating area are near the end of their life cycle and needs to be replaced throughout 2021.
FortisAlberta will be communicating to affected customer groups including Municipalities, First Nations and Rural Electrification Associations (REAs). This communication will provide project details, including timelines, planned power outages, and potential access to property.
In most cases, the first phase of our maintenance will involve surveying and brushing. This work will provide us with the necessary information to plan for our construction phase. FortisAlberta and contractors will then replace a portion of the existing overhead and underground poles and primary wires.
Built in the 1980s, the aging underground power line is compromised over time due to corrosion, wear, soil and other environmental conditions. This can cause issues with power quality and ultimately, the supply of electricity to your home or business. Emergency and individual repairs are not easy as it typically involves an extensive process to find the fault and then excavate and repair the issue. Replacing the whole power line is the best solution for power quality, reliability, cost and inconvenience.
As we plan and prepare for construction, customers may notice First Call flags and stakes on or near their property. If construction work will impact property, our local contractor will provide notice in advance. Our goal is to take any action we can to minimize disruption to property and service. Any disturbance to your property will be restored following construction.
Any necessary power outages will be scheduled during the weekday and customers will be notified by phone by FortisAlberta at least 72 hours in advance. We recommend customers contact their retailer to ensure they have the proper phone number on file.
We thank our customers for their patience and cooperation as we work to ensure we are providing the most reliable electricity service that we can and we ask the public to take care approaching our workers and work sites.
FortisAlberta and its contractors are taking the necessary COVID-19 actions and precautions to protect the health of employees and ensure our ability to continue to provide safe and reliable service for you, our customers.