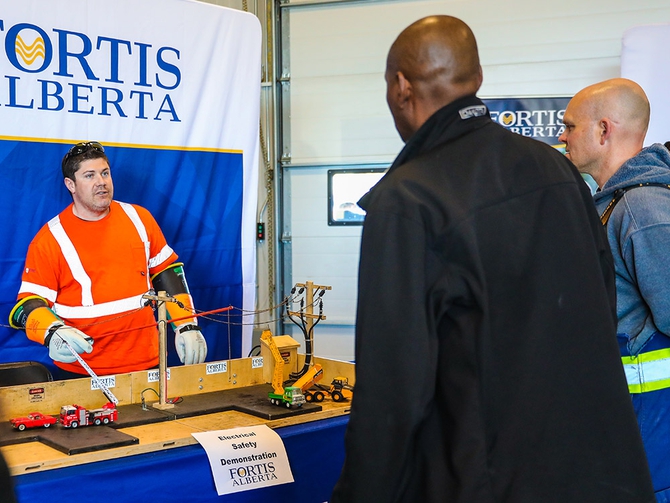 FortisAlberta extends its safety culture to protect Albertans
Oct 14, 2020, 13:39 PM
From the life-saving machines in hospital rooms to the sudden surge of people learning and working from home, the stakes have never been higher for keeping the power on.

Here in Alberta, FortisAlberta keeps the electricity flowing in 240 communities across the province.

With 1,100 employees providing around-the-clock service, the province's largest electricity distribution utility is not only among the most reliable utilities in Canada, but also one of the top safety performers.

And being in the middle of a global pandemic hasn't changed that. Indeed, safety is a core value woven into everything FortisAlberta does.

"We are an essential service and keenly aware of it, and that's why we do everything we can to make ourselves safe, so we can keep the power on for everyone else," says Mona Bartsoff, spokesperson for FortisAlberta.

"When COVID-19 struck, we didn't miss a beat because we're set up to work under emergency situations. Our company is well-positioned for social distancing because we operate from over 40 offices across the province and, as a result, have managed to work remotely incredibly well, and our power line field workers generally operate themselves from their truck. This allows us to protect our most valuable resources, our people."

Together, with Alberta's other regulated electric utilities, FortisAlberta has built a legacy of awareness around mantras such as Where's the Line?, Stay 7 Metres Safe and Look Locate Live.

Over the years, awareness campaigns have targeted those most at risk of contacting either an overhead or underground power line, urging Albertans to exercise caution and to 'Click Before You Dig' through Alberta One Call so a trained professional can come check for lines.

Other online resources, including videos and safety tips, are readily available at fortisalberta.com. Additionally, FortisAlberta provides a 24-hour customer care centre and an emergency line for first responders.

These kinds of resources are especially useful in times like these. Prior to COVID-19, FortisAlberta staff would regularly attend safety fairs and trade shows, make safety presentations to various communities and pay personal visits to those with safety concerns.

This year, they had to take on a different approach, opting for targeted campaigns on social media instead, says Bartsoff. Of particular concern is keeping customers safe from contacts with power lines, which can lead to serious injury or death.

"Looking at safety incidents from this past spring, we didn't see the usual construction activity. What we saw instead in late April and May was everyone at home, doing work around the house — digging new fences and planting trees," she says.

"As of Aug. 31, we recorded 288 third-party incidents, which is when a member of the public makes contact with a power line or a facility that could bring down a power line. This could happen if you were doing something like trimming trees in the yard and some branches fell onto the line, or if you're doing construction or agricultural work near power lines.

"We track and analyze every incident that happens, either internally or externally. This allows us to examine the root of the issue and respond by providing education or learning from it so we can mitigate any areas in need of improvement."

The company also educates the next generation about electrical safety, addressing students through its ZAP program. It was adapted this year because of COVID-19, as in-person training sessions for Grade 5 students became virtual.

From an internal perspective, employees at every level of the organization are trained, equipped and given incentives to demonstrate their commitment through an internal campaign called Mission Zero, or zero preventable injuries.

"This is a safety mantra you will see and hear everywhere in the company, no matter what job you have," says Bartsoff.

Every staff meeting opens with safety reminders, while the push is on seasonal issues, identifying new trends and looking at best practices is ongoing. From daily physical exercise micro breaks to help field and office workers prevent bodily injury, to injury prevention plans at each work site and ongoing driver training, nothing is overlooked when it comes to identifying or controlling potential hazards.