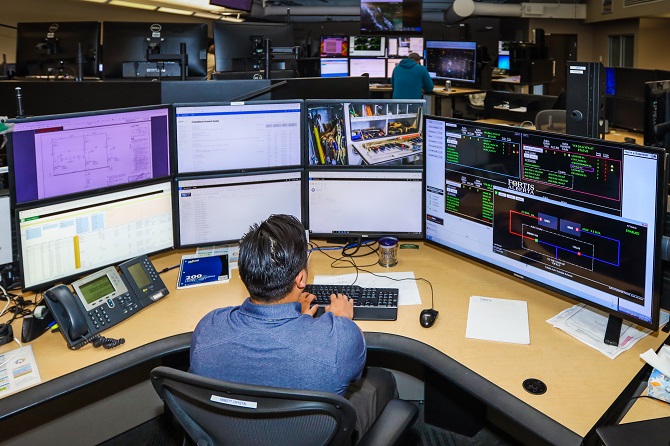 FortisAlberta Reaches Milestone with Distributed Automation System
Jan 11, 2022, 19:24 PM
With the recent Distributed Automation (DA) system completions in Innisfail, as well as the finalization of our Coaldale and Rocky Mountain House systems, FortisAlberta is proud to announce that as of the end of 2021, we will have reached 30 municipalities in our service territory that utilize this state-of-the-art and highly efficient system.
Serving approximately 50 per cent of our customer base, the system can detect various forms of electrical disturbances such as transmission line outages, disruption from storms, trees or wildlife, accidental equipment damage, and more.
The technology, also called Fault Location, Isolation and Service Restoration (FLISR) in the utility industry, helps to minimize the outage duration to affected customers by automatically isolating the faulted section of the system to quickly restore power to as many customers as possible, without any human interaction. In some cases, we can restore power in as little as 30 seconds in situations that previously may have taken hours.
"This system plays a large role in restoring power to as many customers as it can in as little as under one minute," says Curtis Eck, vice president of engineering at FortisAlberta. "It helps us immensely with power restoration by isolating the trouble spots that require manual work by our field workers, such as repairing damage from fallen trees or other disruptions."
The FortisAlberta Control Centre is a central feature of our ability to limit outage impact and improve restoration times during weather events and other incidents. By integrating a DA system into our Supervisory Control and Data Acquisition (SCADA) system, our operators can see the current status of SCADA-enabled equipment, like reclosers and switches, and operate them remotely.
Our implementation of DA project schemes first began in 2012 as we committed to a more reliable service delivery structure throughout the province. With the 2021 completions in Innisfail, Coaldale and Rocky Mountain House (as well as recent completions in Sylvan Lake, Beaumont, Whitecourt and Blackfalds to name a few) we're proud to announce our 2021 30-DA scheme milestone and are excited look ahead as we continue to extend DA technology across our service territory.
Municipalities utilizing Distributed Automation systems:
| | | |
| --- | --- | --- |
| 1. Airdrie | 11. Cochrane | 21. Rocky Mountain House |
| 2. Balzac | 12. Edson | 22. Sherwood Park |
| 3. Banff | 13. Fort Saskatchewan | 23. Spruce Grove |
| 4. Beaumont | 14. High River | 24. St Albert |
| 5. Blackfalds | 15. Hinton | 25. Stony Plain |
| 6. Brooks | 16. Innisfail | 26. Strathmore |
| 7. Camrose | 17. Lacombe | 27. Sylvan Lake |
| 8. Canmore | 18. Leduc / Nisku | 28. Taber |
| 9. Chestermere | 19. Okotoks | 29. Wetaskiwin |
| 10. Coaldale | 20. Olds | 30. Whitecourt |